I've only really been dressing like a rockabilly gal for a short period of time but I have always loved the music and the 1950s era.
There isn't a shortage of excellent clothing stores for a rockabilly style. Hell Bunny, Collectif and Miss Fortune being some of my favourites. 
What really started it for me was the red Hell Bunny tattoo dress I wore for a friends wedding, I teamed it with a black petticoat and wore my hair in victory rolls which was a popular hair style around the 1940s and gave my look a more classic feel. I can't begin to describe all the compliments I got from other guests at the wedding!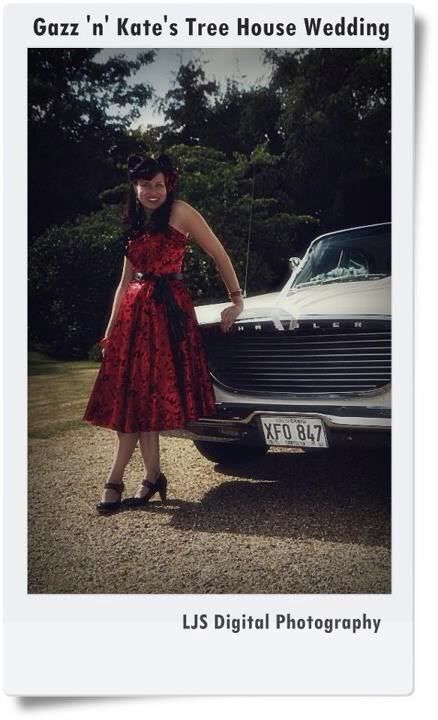 That wedding was last year and this month sees me being a bridesmaid for my best friend who wanted us to wear purple dresses but they could be any style we wanted. So naturally I went for a 50s style satin Halterneck by Vivian of Holloway. I will also have my hair in victory rolls but done more like the glorious Nikki Napalm.

Nikki Napalm



For my everyday style I like to wear my high waisted jeans by Lady K Loves and tops by Miss Fortune.
I keep my makeup really simple but the addition of red lipstick and black flick eyeliner really helps achieve a Rockabilly look.
My hair is really thick and long so quite hard to style and because of my job I can't dye it bright colours but it is a subtle shade of red/black. 

As for music, I adore Imelda May, Caro Emerald and the Baseballs. Some of the originals rockabilly/ rock'n'roll greats are my favourites too, such as Elvis, Jonny Cash, Bill Hayley and the Comets, Wanda Jackson, to name a few.

Some great rockabilly links
Blogs and clothing
Dolly cool jewellery
ReeRee Rockettte's blog
The Rockabilly girl Next door. A great blog!
Miss Fortune clothing
Lady K Loves clothing
Hell bunny clothing stockist
Collectif clothing

Music
Sun Records, the birthplace of Rock and Roll
Imelda May
Caro Emerald
The Baseballs