On 26th October I went to the faery ball and fayre in Glastonbury. I have wanted to go to this event for several years and this time I booked the travelodge, brought the tickets and set off.
We left Kent at 6:30 in the morning and arrived in Glastonbury just after 10 o'clock and spent the day mooching about, meeting up with all my faerie friends and fellow artists.
Now from my previous blog post regular readers (and I know you exist because I have met a few of you over the weekend!) will know my heart lives in Stonewylde and I was lucky enough to meet the author who was doing a book signing in the lovely shop Cat and the Cauldron. I was so excited to meet Kit and to show my appreciation for her creation I gave her a mounted print of one of my paintings 'Monarch of the Stones' which Kit seemed very pleased to receive. A lovely lady!

Me and Kit taken by Mr. B


After perusing the wares on display (and buying a few) in the shops and at the fayre we had to get back on the road.
We were staying in a Travelodge in Wincanton which was a 40 minute drive from Glastonbury so we had a short nap before getting ready for the ball!
I decided to go steampunk for this event and over the previous month I had been raiding charity shops and eBay for anything I could use for my costume. I also made some wings to wear (it was a faerie event after all!) but decided against wearing them because a) they were only made from Cardboard and would get broken, b) they were too big and would have been a nightmare to navigate through the throngs of people in the hall.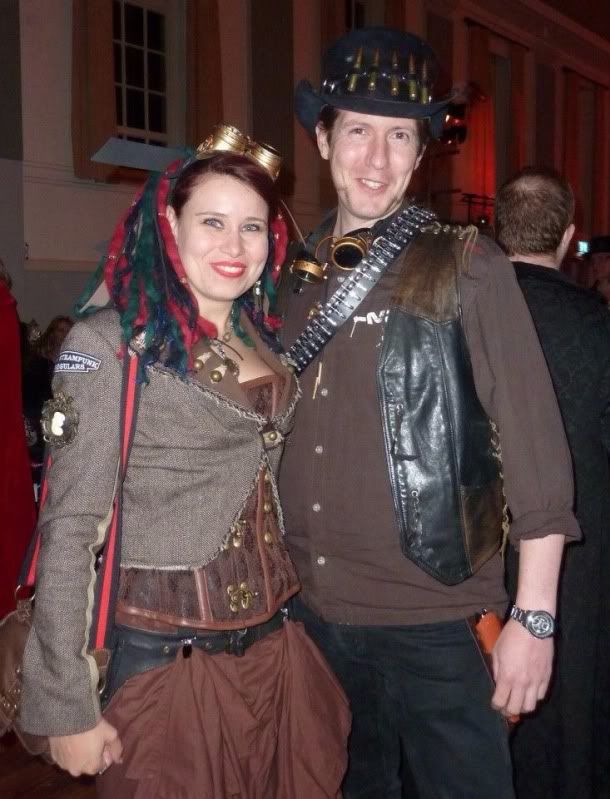 Me and Leon, Steampunks!

Everyone looked amazing! It was a shame it was so busy as I didn't get to see everyone's amazing outfits. There was a lovely mixture of fantastic creations. Faeries brush wings with pirates, mermaids, Ents, goblins, Celtic maidens and other Steampunks.

Celtic moon look positively lovely!
With Esther Remmington in her gorgeous costume made by Martin of EBG Leather and Sarah Aiston, my faerie arty friends. (Only of the bottles of drink was mine, promise!)


We danced the night away to the Dolmen and with sore feet I hobbled back to the car with a huge grin on my face. What a night!

Sunday morning was a dull and wet and my plan to walk up the Tor and visit the Chalice well gardens was put on hold. Instead we went back to the hall and talk to more of my artist friends, including the lovely Linda Ravenscroft, Tamara Newman and Sue Clyne. I also brought a silver bracelet from the very talented Terry English and the new book by Emily Carding called Faery craft which features many of my friends.
All too soon the day come to an end and we had to get back on the long journey home, tired but very happy.

I didn't take any photos so I would like to thank Esther Remmington and Sarah Aiston for letting me use their photos!